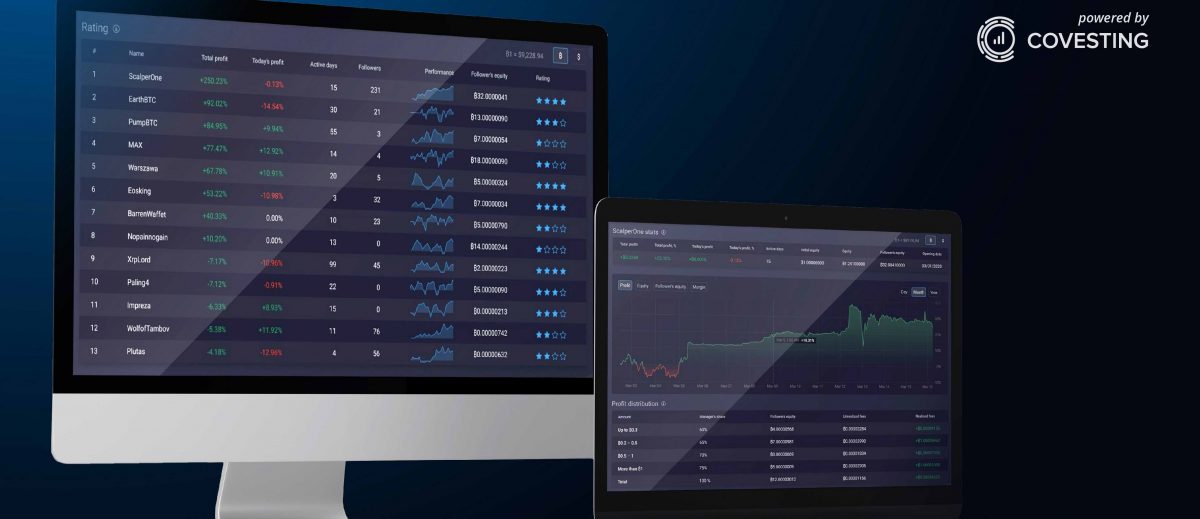 Comments Off

on 2021 Bull Market: 3 Ways To Boost ROI With Covesting
The cryptocurrency market is trending once again, with Bitcoin going up more than 70% on the year only three months into it. Altcoins like Ethereum have performed even better than the first ever cryptocurrency, bringing unprecedented opportunity to crypto markets for the first time in years.
Investors who've been in crypto for some time, along with traders everywhere, are making life-changing wealth during this once-in-a-lifetime bull market. For those justgetting into crypto now, or those looking to accelerate their capital growth further, here are three ways that PrimeXBT's Covesting copy trading module can help you get the most out of the ongoing bull market before it is too late
What Is Covesting Copy Trading?
The Covesting copy trading module on PrimeXBT is a peer-to-peer copy trading platform, connecting skilled traders with a diverse and robust community of followers.
Followers using Covesting can then copy the Strategy of these more experienced traders, profiting from their success. Strategies earn a share of each follower's profits for a win-win scenario. Both types of accounts can unlock added earning potential, allowing users to extract the most possible opportunity out of the current bull market.
Follow The Money: What Copy Trading Can Do For You
The most obvious way to take advantage of this innovative peer-to-peer copy trading tool is to register for a free account on PrimeXBT and become a follower.
Top Strategies ranked accordingly on the Covesting module's public leaderboard system have recent ROI reaching as high as 1,500% to show for their success, which by following, followers can potentially achieve similarly dramatic returns.
Followers can bolster their returns further with the COV utility token – the native ERC20 token to the Covesting experience. And by following some of the best the Covesting platform has to offer, followers can essentially sit back, relax, and watch their ROI grow.
Create A Strategy: Make Money For You And Your Followers
The next way traders can tap into additional revenue streams using Covesting copy
trading is through becoming a leading Strategy yourself. If you' ve got the skills or want to give a serious shot at growing capital, opening a Strategy can be a game-changer.
Top Strategies have earned themselves millions in success fees while also earning their followers millions more at the same time. Not only do these users reap the reward themselves, but they' ve also changed the lives of many others forever. Strategies can earn up to five stars to show off their skills, but all metrics related to risk and success are transparent for followers to consider, keeping Strategies honest and at the top of their game.
Diversify A Portfolio: Spreading Capital Around To Reduce Risk,Boost ROI
Finally, Covesting can be an ideal complement to any individual's trading strategy outside of the module. For example, users on PrimeXBT can perform technical analysis and trade CFDs for forex, commodities, stock indices, and crypto as they always do, but can further diversify their trading portfolio by also allocating capital to any of the Strategies listed on the Covesting leaderboard.
By allocating capital across other successful Strategies, traders are hedging against themselves with other skilled traders. Even the best traders have bad days, and when an unlucky losing streak comes along, rather than taking a break or sitting idly on your hands while markets take off without you, users can shift funds to Covesting and let others with a clear head handle the trading for you.
Covesting: The Solution To Ensuring Crypto Bull Market Success
Whether it is following a handful of five-star Strategies, becoming one yourself, or something in between, the flexibility and access to opportunity the Covesting copy trading module enables is unlike anything else in the crypto market today. Combined with a historic bull market unlike the world has ever seen  PrimeXBT's Covesting copy trading module can help to ensure this life-changing opportunity doesn't pass you by.